Navy Buckle Style Shown Above Can be Used With Optional Buckle Extenders

Zipper Style Shown Above

Only available in black
Only available in sizes Small, Medium and Large
Cannot utilize optional buckle extenders
Additional $20 option
Call to check if in stock, but can special order

English saddles require optional English saddle strap and may be
needed for endurance saddle.
Note: Click on
Accessories
and then Bungee Lanyard (standard length) or Coiled Wire for detailed instructions with photos of attaching Bungee Lanyard or Coiled Wire to a Hit-Air English Saddle Strap. To attach securely to a western or endurance saddle, we recommend inserting a Night Latch (option under Accessories) or strong nylon dog collar through the loop in the Bungee Lanyard and then securing the Night Latch or dog collar around the pommel of your saddle.
Question: What it is the main difference between a Hit-Air vest for motorcycle (e.g. MLV) and for equestrian sport?

Answer: The motorcycle models have reflective properties for higher visibility and use the longer coiled wire (also known as a tether or lanyard). If you practice both sports, you should get both the motorcycle and equestrian coiled wires (one is included with the vest).


NOTE: Any vest model or article of clothing could get caught on a saddle horn. The BUCKLE MODEL MAY Be MORE SUSCEPTIBLE TO GETTING CAUGHT ON SADDLE HORN THAN ZIPPER MODEL, BUT EVEN THE ZIPPER MODEL COULD GET SNAGGED ON A HORN, AND IS AVAILABLE ONLY IN BLACK AND LESS EXPANDABLE, SINCE IT CANNOT BE USED WITH OPTIONAL BUCKLE EXTENDER.

Cartridge Size varies by Vest Size:
XS, SMALL and MEDIUM ADVANTAGE use 50cc

;

LARGE and X-LARGE ADVANTAGE use 60cc

****CAUTION****: Insure that the cartridge is in the vest and securely screwed in properly. When changing the cartridge after a deployment, insure that it is not cross-threaded. When installing a new cartridge, you should observe that the cartridge has approximately 5-7 full revolutions when screwing in the cartridge. Failure to insert cartridge properly will result in vest not inflating properly and could result in serious injury. Also insure that the red slide is in the up unlocked position; the vest will not deploy if the red slide is in the down locked position.



Note: The XSmall vest adjusts from 3XS to 2XS. The 3XS size is below and rider should weigh at least 66 pounds:
Height: 4'7" to 4'11"

Chest: 27" to 30"

Waist: 21" to 25"
The H-Model/Advantage (buckle option shown above) is a culmination of more than a decade of experience in airbag technology by MUGEN DENKO, LTD. We recommend you call us concerning sizing and model differences, as these vests differ by model. Cherri has vast experience in sizing vests over the past 7 years and personal experience using the vest. See return policy at very bottom of page.

All vests come with one included cartridge, but we recommend you always carry a spare. If you buy spares with the purchase of your vest, then there is no added shipping cost. Cartridges are considered hazardous material and must ship ground (cannot ship via UPS).
Don't attach the included coiled wire (also referred to as tether or lanyard) to any decorative saddle ring that could break away during a fall. Don't loop over a saddle horn, as it could be pulled from the horn depending on the trajectory of you fall. You shoud be able to stand up in the saddle stirrups without being overly stretched or too loose. If you ride English, you may need the optional English saddle strap. For western or most endurance saddles, we usually recommend attaching the coiled wire via our optional Night Latch or a strong nylon dog collar that buckles around the saddle's pommel. Saddles not having a hole underneath the pommel may be able to use the Amish Saddle strap if you have securely attached rings on either side of saddle.

This "harness type" airbag employs the new higher speed key ball mechanism (component that activates the CO2 cartridge).
Q:
Can I use a vest with buckles on a saddle with a horn?
A: Yes, but realize that it is possible to snag your buckle on the horn, so unbuckle before dismounting. It is possible even to snag the zippered model H-Model or any article of clothing, so be careful to avoid snagging your vest.
The zipper version is shown above in one of the small pictures. Select Zipper or Buckle from drop-down box above.

Versatile: for Eventing, Western and other equestrian disciplines, has optional chest padding, back padding, and side paddings.

Fastest Deployment Time: 0.09 sec

The attention to detail is unmatched by any other brand of airbag apparel. The neck airbag , where most injuries occur, inflates first, followed by (in only fraction of a millisecond) the torso and hip airbag. The neck airbag is also significantly larger than the leading competitor's neck air bag.

The key box where the CO2 cartridge is deployed is protected from dust and dirt and provides sound insulation to minimize spooking the horse during an unintended deployment.

The vest is also more comfortable because the hip air bags are concealed inside a special pocket making it unnecessary to have a long "duck tailed" style that can be uncomfortable in the saddle.

The H-Model is also more versatile because it has an additional optional CE back protector and waist side cushions.

The H-Model is also cooler to wear because of the open design. With all of these advantages, it is also more affordable costing hundreds of dollars less!

Check the measurements table at the bottom of the page and select your size, if you are not quite sure, you can contact us for assistance, as we have fitted numerous customers. If your height does not match your chest in the tables, you may need the optional Buckle Extender. The Buckle Extender may also be needed if you intend to wear the vest over a heavy jacket.
Overlay of the Hit Air H-Model Blue, and the other manufacturers' model (black) See "Why Hit-Air vs Compeititor" on left main menu for more details.
Hit Air Telescopic Airbag (un-inflated)

Hit Air Low profile telescoping hip airbags that slides inside the body of the vest. This makes the Hit-Air more comfortable in the saddle.
---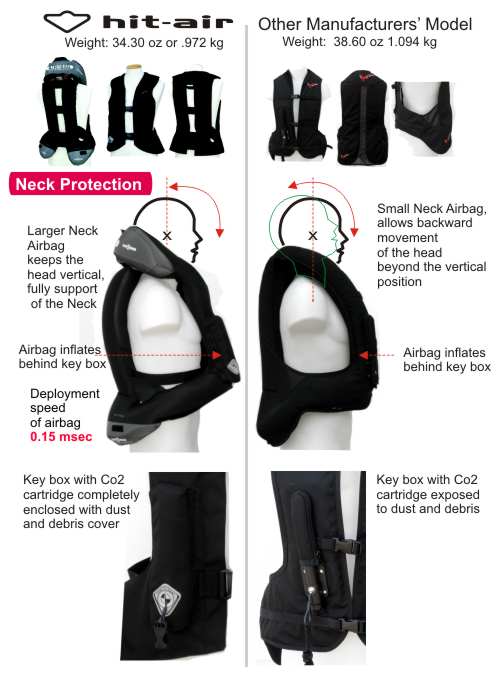 ---
TERMS AND CONDITIONS:
PRODUCT PURCHASE RELEASE OF LIABILITY, WAIVER OF CLAIMS AND ASSUMPTION OF RISK AGREEMENT.
ASSUMPTION OF RISK/WARNING:
I am aware that operating, riding or being a passenger on a motorcycle, ATV or other power sports vehicles involve certain inherent risks, dangers and hazards which can result in serious personal injury or death.
I am aware that "equine activity" e.g. horseback riding and other equestrian sports events, including professional racing, dressage, show jumping, eventing, polo, vaulting, endurance, harness racing, and others have certain inherent risks, dangers and hazards which can result in serious personal injury or even death.
"Inherent risks of equine activities" means those dangers or conditions which are an integral part of equine activities, including, but not limited to:
(1) The propensity of an equine to behave in ways that may result in injury, harm, or death to persons on or around them;
(2) The unpredictability of an equine's reaction to such things as sounds, sudden movement, and unfamiliar objects, persons, or other animals;
(3) Certain hazards such as surface and subsurface conditions;
(4) Collisions with other equines or objects; and
(5) The potential of a participant to act in a negligent manner that may contribute to injury to the participant or others, such as failing to maintain control over the animal or not acting within the participant's ability.
"Participant" means any person, whether amateur or professional, who engages in an equine activity, whether or not a fee is paid to participate in the equine activity.
I am also aware that the Hit-air airbag line of safety apparel sold, marketed and or distributed by Riding Safe, LLC, cannot guarantee protection against injury or guarantee increased safety in all situations. I hereby freely agree to assume and accept any and all known and unknown risk of injury while using any Hit-air airbag safety apparel
As of 2001 there are 45 states with Equine Activity statues that provide that a person may not bring a lawsuit if the activity resulted from an inherent risk of equine activities, with the exception of providing defective tack or failing to match horse with rider. New York has proposed equine activity statue not yet enacted.
RELEASE AND WAIVER OF CLAIMS AGREEMENT:
In consideration of the sale to me of the listed apparel and/or equipment on my order/orders,
I hereby agree as follows:
1. TO ACCEPT FOR USE AS IS, the equipment described in this agreement from my order/orders from Riding Safe, LLC.
2. TO WAIVE ANY AND ALL CLAIMS that I have or may have in the future against Riding Safe, LLC.
3. TO RELEASE Riding Safe, LLC from any and all liability for any loss, damage, injury or expense that I may suffer, or that my next of kin may suffer, as a result of my use of the equipment described in this Agreement, due to any cause whatsoever, including negligence or breach of contract on the part of Riding Safe, LLC in the design, manufacture, selection, installation, maintenance or adjustment of the equipment;
ARBITRATION: In further consideration of the sale to me of the listed equipment on my order/orders, I hereby agree to submit to binding arbitration any and all claims which I may have against Riding Safe, LLC arising from any use of the listed apparel and/or equipment on my order/orders. The arbitration shall be pursuant to the rules of the American Arbitration Association. The submission to the American Arbitration Association shall be unlimited and the arbitration award may be enforced by any Court of competent jurisdiction. Arbitration shall be commenced from the date upon which any alleged claim first arose. Further, the arbitration shall be held in State of Indiana unless otherwise mutually agreed to by all the parties.
BINDING EFFECT OF AGREEMENT: In the event of my death or incapacity, this Agreement shall be effective and binding upon my heirs, next of kin, executors, administrators, assigns and representatives. ENTIRE AGREEMENT: In entering into this Agreement, I am not relying upon any oral or written representations other than what is set forth in this Agreement and in any written material provided by the manufacturer of any purchased equipment, accessory or apparel.
I HAVE READ AND UNDERSTAND THIS AGREEMENT AND I AM AWARE THAT I AM ACCEPTING ITS TERMS BY CONTINUING WITH THE PURCHASE OF PRODUCTS FROM THIS WEBSITE OR IN PERSON.
Warning: USE ONLY GENIUNE MUGEN DENKO REPLACEMENT CARTRIDGES